Team Performance Accelerator (TPA)
To drive and track the performance of individual teams.
The Team Performance Accelerator helps leaders to identify the strengths and weaknesses of their team's climate and develop clear actions to further improve the performance of the team.
Key uses include:
Individual team appraisal
Diagnosing team issues and establishing priorities for improvement
Having honest conversations with a team about what is working and what is not
Measuring and tracking the health of a team's climate
Confirming the impact of the leader's style on a team's performance
Most often used by operational and management teams to create a snapshot of current climate. The tool helps teams to focus on the key issues they face, identify root causes, target areas for development and track progress towards their goals.
About The Team Performance Accelerator (TPA)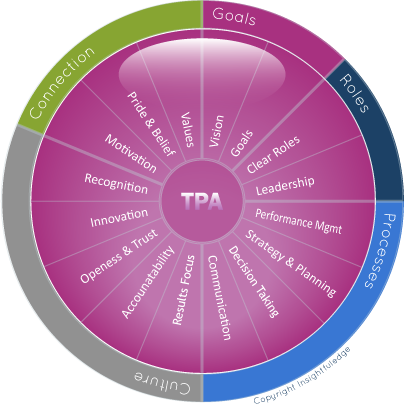 The Team Performance Accelerator Model TPA
Number of Elements:

16
Uses:
Most often used by operational and management teams to create a snapshot of current climate. The tool helps teams to focus on the key issues they face, identify root causes, target areas for development and track progress towards their goals.

Comments:
This version of the Performance Accelerator with just 16 elements is easily grasped and used by leaders and internal facilitators alike.

Time to complete survey:
15 – 20 minutes

Customisation:

You can customise the 5 Qualitative Questions at the end of the questionnaire to address specific issues in the organisation or team