Individual 360 Feedback
A flexible multi-rater product
to support your 360 needs
---
Whether you are interested in our 'Pay-as-you-go', 'Edge partner' or 'Corporate' solutions the 360 feedback system is there for your use. This unique and easy to use system gives you the ability to create your own performance enhancing product or just use our tried and tested Insightful Leader 360 for Individual Leaders, Managers and Professionals.
360 Feedback
---
To drive and develop the capability and performance of individual leaders and professionals.
With our 360 system you have a choice:
You can use our proprietary Insightful Leader 360i feedback tool branded for you; or
You / we can create a tailored question set to meet your model of performance
The system can be used to measure up to 5 different groups of reviewers including: Manager(s), Direct Report, Peers and Clients.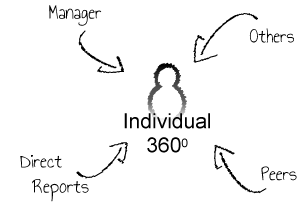 Key uses for 360 Feedback
---
Diagnosing individual strengths and weaknesses
Accelerating the performance of high flyers and key players
Providing leaders with objective feedback and a solid basis for coaching
Providing benchmarks of performance and tracking improvements
Having honest conversations about the implications of an individual's style
Measuring the behavioural shift from management and leadership programmes, pre- and post-event
Insightful Leader 360
---
Our Insightful360i enables Leader and managers to use a tried and tested leadership competency model to measure the effectiveness of individuals, helping them to understand the strengths and weaknesses of their working style and its impact on the performance of the people and teams around them.
---
Want to see a sample report?
Fill in the form below and we will send one over